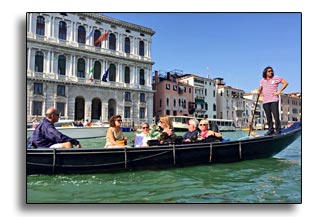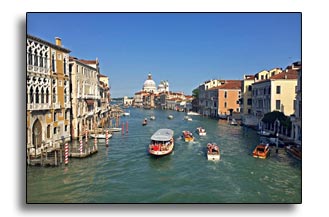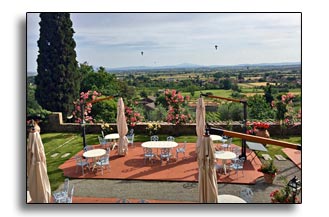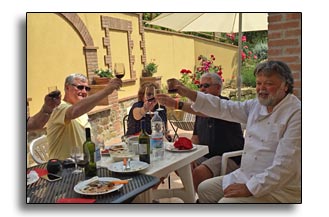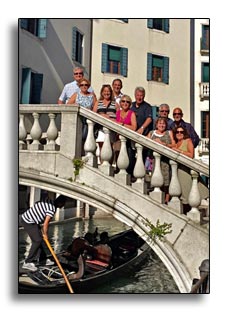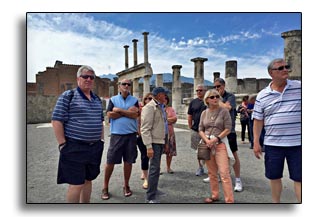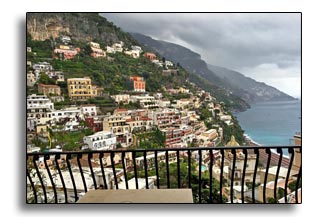 Italy Custom Private Tour Group
Rome, Positano, Tuscany, and Venice
Our recent trip to Italy was so fabulous. The majority of our group (10) had never been to Italy and for all of them, it was the trip of a lifetime.
All of our flights were on time and fairly comfortable. We would probably book Premium Economy on all the long hauls next time just to get the extra room. The driver was waiting for us in Rome and Customs was a breeze.
Our hotel in Rome was in a great location however, we should have stayed in the hotel you recommended instead. The restaurant was under renovation but we were able to find several small delicious osterias or bistros just a short walk away. It rained a lot but we just bought umbrellas and kept walking !
Our tour guide, GianLuigi and driver were waiting when we came down in the morning and we sailed past all the tourist lines at the Vatican and the Coliseum. GianLuigi had a great personality and was an excellent guide. He was extremely knowledgeable and educated on the history of all that was presented to us that day.
The morning we left our Rome hotel to meet the rest of our group at the airport, we were ready to walk a block in the rain to our small tour bus, but we were picked up at the door by a van and transferred to the bus. We almost kissed the driver when we realized he was there for us !! It was this impressive attention to detail that made the trip so amazing.
When we arrived in Positano, we were charmed immediately by the Hotel Poseidon and its wonderful attentive staff. We were at once taken on a tour of the hotel and its amenities, including a very nice spa and pool. The property is classic, fabulous, Italian and the views of the coast are spectacular. The concierge made us dinner reservations nightly and Le Terre (all the way up on the top of the hills) sent a driver for us. The food and atmosphere were great and the Maitre D', played the saxophone for us. Another memorable night.
When we returned to the hotel, we would have a drink at the small intimate bar or take it out to the pool where there happened top be a full moon. We also ate another great meal at Di Vincenzo, just a few doors from the hotel.
The following day, our guide Allessandro met us and we walked to the pier where we met Angelo and his immaculate boat. The ride across to Capri was beautiful and full of historical lessons by Allessandro. We took the chair lift to Anacapri and had lunch at the top just to soak in the gorgeous view for longer. On the way back we went to the Blue Grotto, which if you haven't seen you should. Our group was very impressed .
Next day, we toured Pompeii with Hector as our guide. He was extremely knowledgeable and entertaining. I feel like I keep saying the same things about the guides and staff, but truly they were ALL wonderful. It was actually hard to believe! Once again, our friends were amazed at Pompeii, the history, stories and all the "rooms" we walked through.
It came time to transfer to Cortona and we were picked up by Gianni and Tomasso. The vans were comfortable and spotless and the drivers very personable and extremely knowledgeable of all the areas and small villages we drove through. They were very accommodating to our group with bathroom breaks, photo opps and great meal suggestions, detouring through small towns along the way. We spent much time in the vans with them, they were delightful and very flexible with our schedule and itinerary.
Il Falconiere in Cortona was unexpected elegance in the middle of a vineyard. It was like staying in the private villa of friends. The owners Sylvia and Riccardo greeted us on arrival and checked in with us several times a day. The web site does not do it justice. The property is exquisite and welcoming.
One of our favorite guides was Kate on our day tour of Florence. She was delightful and very smart. Once again, we had prepaid admission and vouchers and did not wait in line ever . Our group was quite impressed.
We went to several beautiful wineries in Montalcino, Montepulciano and Chianti, mostly recommended and reserved by Gianni. They were all well worth a visit and the ones we had lunch at were wonderful. The cooking class at a private home was so fun. The chef, Antonino and his wife Ruth were a pleasure and the property was beautiful. The food was too good to even try to describe.
Stella was a personable tour guide in Siena and covered a lot of ground and history in a short amount of time even with our disruptive group. Sometimes it was like herding hamsters. The bakery windows and shopping were sometimes too tempting. But she was great.
Gianni dropped us off in Venice and the Hotel Palazzo Sant'Angelo was again fabulous. The staff was unbelievable. As soon, as we got to the room, the desk called and offered to make dinner reservations. The recommended restaurants were great and the staff could not have been nicer. The morning we left (at 4:30 am) they insisted on having breakfast ready for us even though we told them not to. Amazing service ! Ivano, our Venice guide was good also.
At the end of the trip, everyone kept repeating how amazed they were that every single driver, guide, hotel, hotel staff, admission procedure, meal, flight, check in went without a glitch and that every single person we had contact with made our trip awesome !! Including you and Perillo. They are still telling anyone who will listen!

We cannot thank you enough !!
Grazie, Graie Mille,
Rhonda, Marc, Julie, David, Sue, Joseph, Heidi, Bill, Christine & Jim
Solon, OH